Wildlife capture and removal from Ann Arbor to Detroit, MI
Detroit is Michigan's most populous city. With over four million individuals living within the metropolitan area, there's much hustle and bustle. With a home on the Detroit River and a bustling airport, that hustle and bustle come with an increased risk of unwelcome city visitors. Pests and wildlife from the natural landscape sneak their way into the city is a big problem for many who call Detroit home.
That's why Varment Guard has been offering our wildlife removal and exclusion services in the metro for decades. Call us anytime you need help getting - or keeping - pests out of your Michigan home.
The State of Michigan takes its wildlife seriously. Nuisance species listed on the Department of Natural Resources site abound. Detroit can be a comfortable home to skunks, raccoons, coyotes, and more. Whatever wildlife pest you face in your Detroit home or business, Varment Guard has a service to address it.
Keeping Critters in Their Place, Not Yours!
Varment Guard may not service all the areas the map above represents. Please get in touch with us for service area details.
Varment Guard Wildlife Services in Detroit, MI
Varment Guard offers animal removal services and nuisance wildlife control for home residences and businesses. Our local Detroit technicians are highly trained in offering comprehensive humane wildlife control solutions. Learn about some of the most common wildlife problems in the Detroit area and how Varment Guard can help.
Quality Assured, Humane Control
The entire staff at Varment Guard is knowledgeable, trustworthy, resourceful, and passionate about preventing and solving wildlife and pest concerns for our clients. We're honored when they have something to say about it:
How Do I Get Started with Wildlife Control Near Me?
When it comes to safe, humane, and efficient wildlife removal in Detroit, MI, you can count on the experts at Varment Guard. Call today to see for yourself.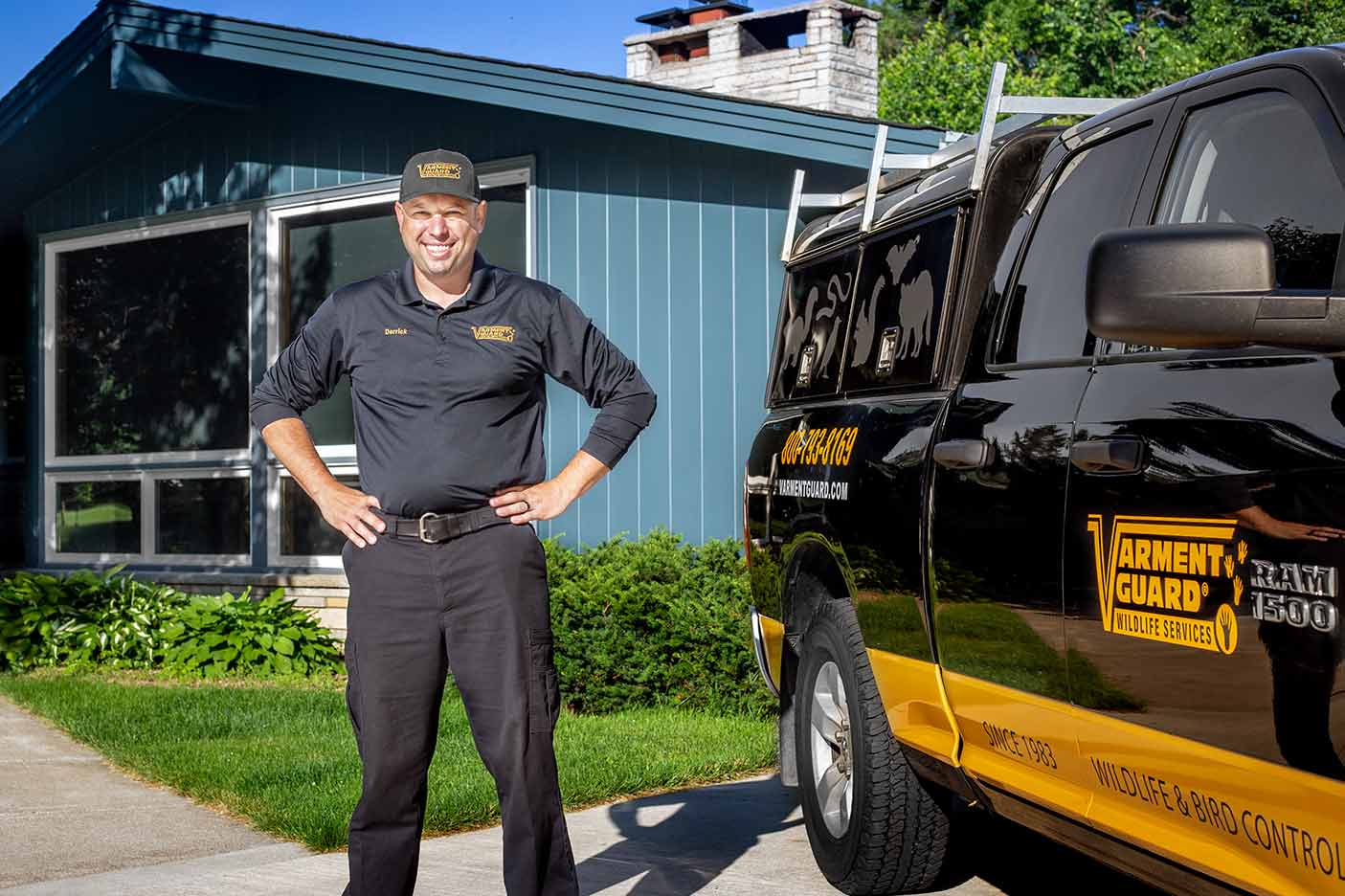 Looking for more relevant information?
Find out how you can better identify, prevent, and exclude wildlife pests from your Detroit, MI home with help from the Varment Guard blog. Some of our most popular posts include:
Looking for efficient and humane wildlife control in Michigan?
Get in touch
 with the experts at Varment Guard today!
Our Local Team
Aaron Swanbeck
Austin Wittmuss
Brock Rolsten
Chris O'Banion
Jared Miller
Jeremy Tucker
Kevin Washington
Solamen Rettelle
We proudly serve the following cities:
ALLEN PARK
ANN ARBOR
AUBURN HILLS
BELLEVILLE
BLOOMFIELD HILLS
BRIGHTON
CANTON
CENTER LINE
CHESTERFIELD
CITY OF THE VILLAGE OF CLARKSTON
CLINTON TOWNSHIP
COMMERCE CHARTER TOWNSHIP
DEARBORN
DEARBORN HEIGHTS
DETROIT
DUNDEE
EASTPOINTE
FARMINGTON
FLAT ROCK
FORT GRATIOT TOWNSHIP
FRASER
HAMTRAMCK
HARTLAND
HIGHLAND PARK
HOWELL
INDEPENDENCE CHARTER TOWNSHIP
INKSTER
LA SALLE
LAPEER
LATHRUP VILLAGE
LEXINGTON
LINCOLN PARK
LIVONIA
LYON CHARTER TOWNSHIP
MACOMB
MADISON HEIGHTS
MADISON HGTS
MANCHESTER
MONROE
NEW BALTIMORE
NEWPORT
NORTHVILLE
NOVI
PLYMOUTH
PONTIAC
PORT HURON
REDFORD CHARTER TOWNSHIP
ROCHESTER HILLS
ROSEVILLE
ROYAL OAK
Show All
Zip Codes
48015
48021
48026
48034
48038
48042
48051
48060
48066
48071
48073
48076
48080
48081
48083
48084
48089
48091
48093
48101
48103
48104
48105
48108
48111
48116
48124
48125
48126
48127
48131
48134
48141
48145
48146
48150
48152
48154
48158
48162
48165
48166
48167
48168
48170
48176
48180
48183
48184
48185
Show All
---