Safe and Humane Wildlife Solutions
Environmentally sound nuisance animal removal and prevention from highly trained and licensed technicians.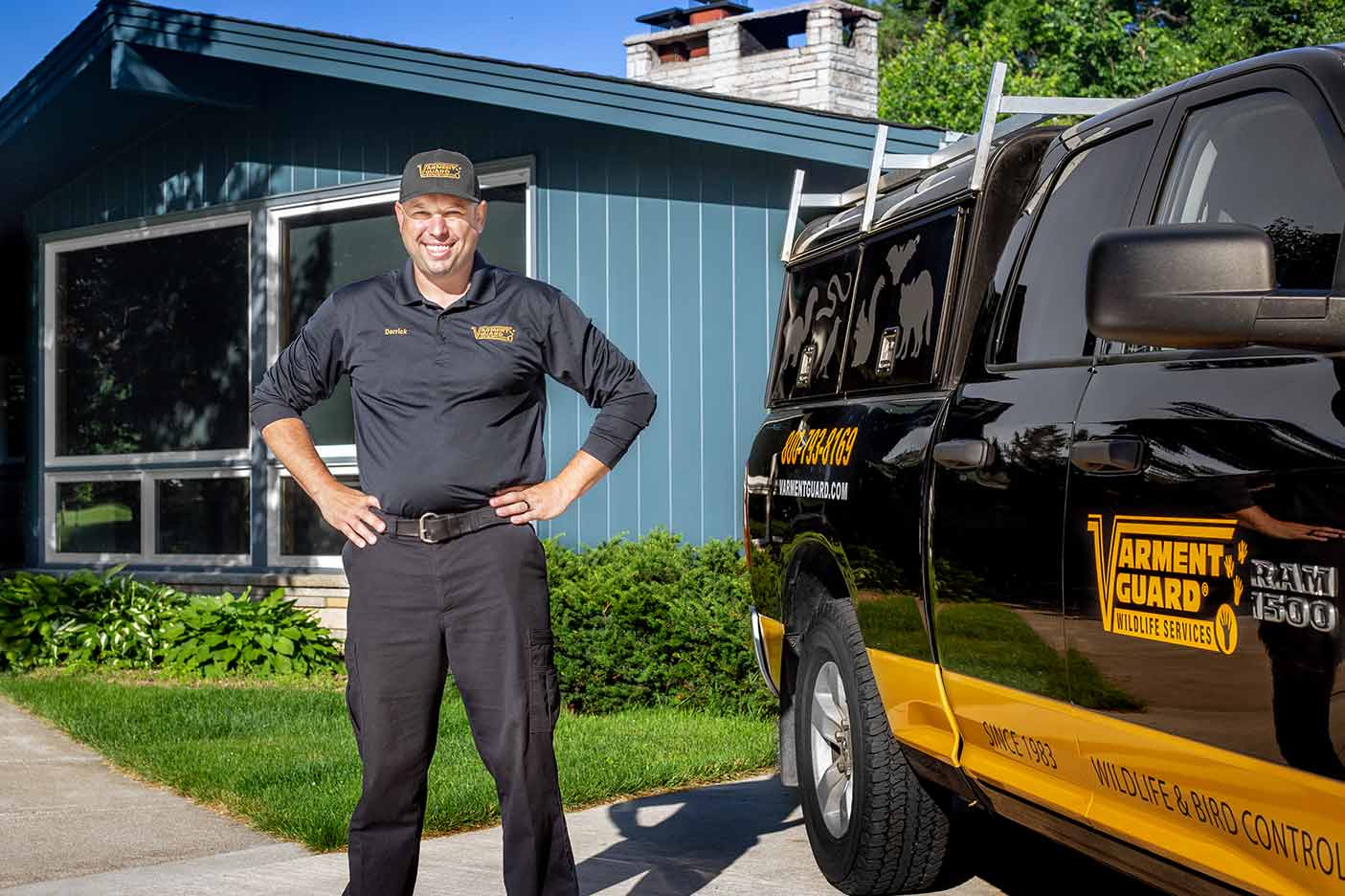 Setting the Standard of Excellence
At Varment Guard we offer an innovative set of wildlife control services for the humane removal and handling of nuisance animal problems.

Our steps for successful wildlife control:
Thorough inspection to identify the pest and their entry points.
Removal and exclusion to prevent future re-infestation.
Use of best methods for removal and exclusion.
Trapping Assurance and 5-year warranty on all exclusion.
Over 130 Years Of Experience
Our team has over 130 years of combined experience in wildlife control and bird management. This means when you work with Varment Guard to solve your nuisance wildlife issues, you have an expert on your side.
In addition to our humane approach, we use customized methods to meet each clients unique needs. We are equipped to handle both small and large facilities like airports, stadiums and more.
Highly Trained & Educated
87% of our wildlife services professionals have an Associates or Bachelors Degree in Wildlife Management. For our remaining staff, all are certified and have achieved a level of higher learning in their field.
Licensed & Certified Professionals
Our staff is required to be licensed, certified, and/or members of all local, state and federal governing bodies and cultivate mutually beneficial industry associations and partnerships.
BATS IN HOME • BIRD IN VENT • BIRD NESTS & DROPPINGS • CHIMNEY CAPPING • DEAD WILDLIFE REMOVAL • DEER IN GARDEN • GOOSE DROPPINGS • GOPHERS IN YARD • GROUNDHOG UNDER DECK • MOLE TRAPPING • OPOSSUM UNDER DECK • PIGEONS ON ROOF • RABBIT IN GARDEN • RACCOONS IN ATTICS • RACCOON TRAPPING • SKUNK TRAPPING • SNAKE IN THE HOUSE • SQUIRREL IN HOME • SQUIRREL TRAPPING

Introducing Varment Guardian, the ultimate choice for humane control of nuisance wildlife.
When conflict occurs between people and wildlife, Varment Guard has always been there to provide resolution to all your wildlife issues.  When an unwanted animal invades your home, our wildlife professionals have the training and experience to find the best solution to your problem.  Not only do we remove animals from areas like attics, walls, sheds and decks, but we offer permanent solutions to prevent animals from entering those areas in the future.  Using the most humane methods to solve wildlife problems has always been a priority and now we are introducing our most humane solution of all.