There are a lot of vibrant, welcoming cities across Ohio. Toledo is one of the best. As the sixth-largest metro area in all of Ohio, it's just big enough to have a bustling industry without being overwhelmingly crowded. Just like other bustling, beautiful cities of Ohio, however, Toledo has its share of local wildlife pests to plague it.
Varment Guard is familiar with these pests - and how to keep them away. Call us today to learn more about our extensive commercial and residential wildlife removal and exclusion services.
Toledo, OH & SE Michigan Animal Control
Ohio's Department of Natural Resources lists sixteen different major nuisance wildlife populations in and around Toledo. Your Toledo, OH home is at a marked infestation risk from over a dozen of these different species. From bats to snakes to squirrels, Varment Guard offers the services you need to keep these unwanted visitors away.
When it comes to safe, humane, and efficient wildlife removal in Toledo, OH, you can count on the experts at Varment Guard. Call today to see for yourself.
Keeping Critters in Their Place, Not Yours!
Whether you're looking for raccoon pest control, dead wildlife removal, bat control, or another type of animal control entirely, we've got you covered. Varment Guard provides wildlife control in the following Indiana and SE Michigan locations:
Adrian, MI
Blissfield, MI
Hudson, MI
Morenci, MI
Defiance, OH
Bowling Green, OH
Freemont, OH
Findlay, OH
And more...
Varment Guard Wildlife Services in Toledo, OH area
Varment Guard offers animal removal services and nuisance wildlife control for home residences and businesses. Our local Toledo wildlife technicians are highly trained in offering comprehensive humane wildlife control solutions. Learn about some of the most common wildlife problems in the Toledo area and how Varment Guard can help.
Most Recommended Wildlife Company in OH
The entire staff at Varment Guard is knowledgeable, trustworthy, resourceful, and passionate about preventing and solving wildlife and pest concerns for our clients. We're honored when they have something to say about it:
How Do I Get Started with Wildlife Control Near Me?
When it comes to safe, humane, and efficient wildlife removal in Toledo, OH you can count on the experts at Varment Guard. Schedule a service today to see for yourself.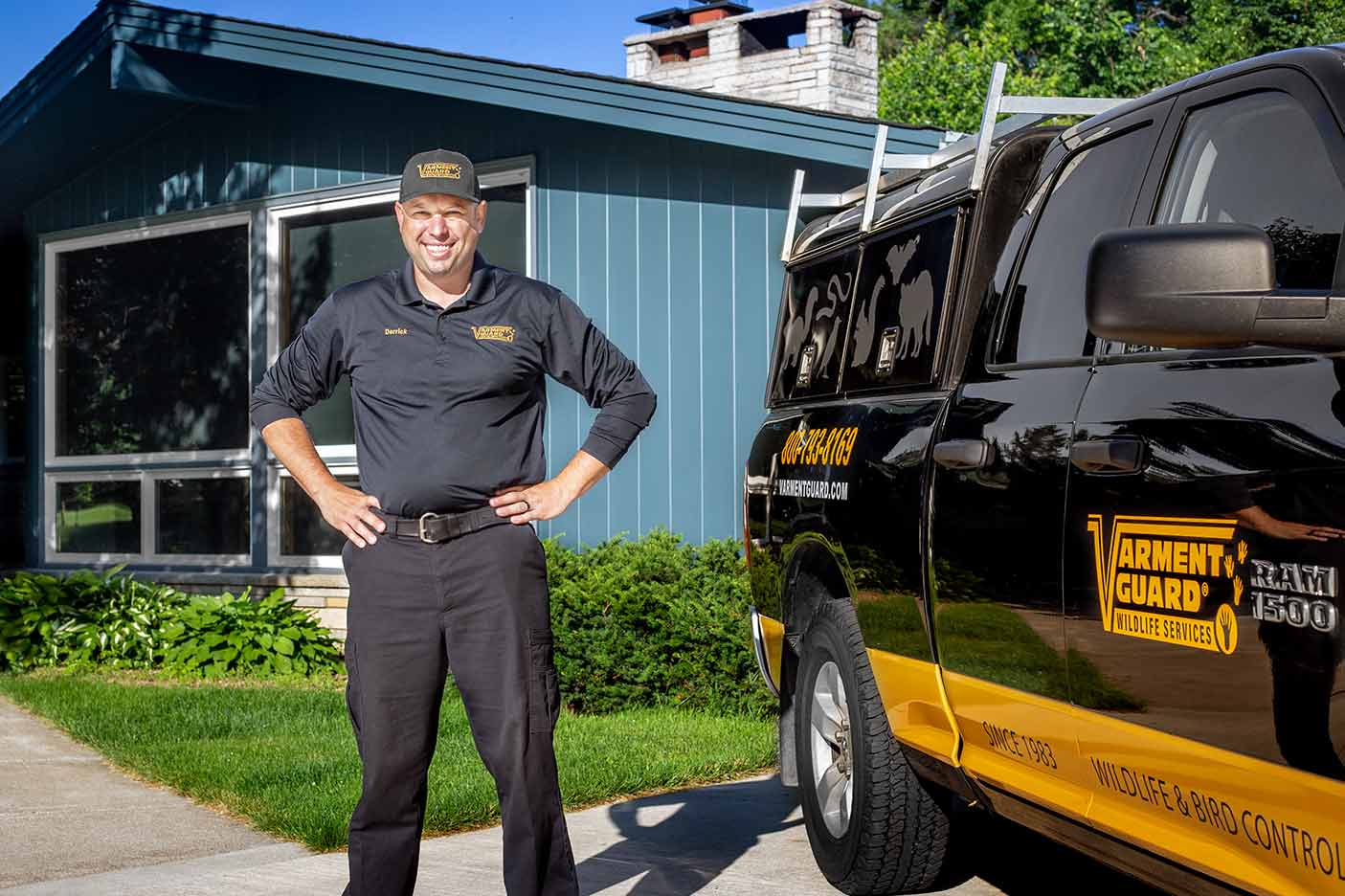 Looking for more animal removal, trapping, and prevention tips?
There's nothing more powerful than knowledge when it comes to preventing and removing wildlife and pest problems. Varment Guard can give you the knowledge you're seeking with our ever-updating industry blog. Start with some of our more popular posts here:
Get in touch
with the experts at Varment Guard today!
Our Local Team
Aaron Swanbeck
Andrea Cameron
Austin Short
Brent VanVoorst
Brock Rolsten
Darren Renner
Gabe Hartwig
Garrett Russell
Jared Miller
Jeff Holtgreven
Jeremy Tucker
Matt Stueve
Mike Gerhardstein
Nate Williams
Solamen Rettelle
We proudly serve the following cities:
ADDISON
ADRIAN
ALVORDTON
ARCHBOLD
ARLINGTON
ATTICA
BELLEVUE
BERKEY
BLOOMDALE
BLUFFTON
BOWLING GREEN
BRADNER
BRYAN
CAREY
CLYDE
COLUMBUS GROVE
CURTICE
DEFIANCE
DELTA
DESHLER
EDGERTON
EDON
ELMORE
EVANSPORT
FAYETTE
FINDLAY
FOSTORIA
FREMONT
GENOA
GRAND RAPIDS
GREEN SPRINGS
HASKINS
HICKSVILLE
HOLGATE
HOLIDAY CITY
HOLLAND
HUDSON
KALIDA
LAKESIDE MARBLEHEAD
LEIPSIC
LIBERTY CENTER
LUCKEY
LYONS
MARBLEHEAD
MAUMEE
MCCLURE
MCCOMB
MONCLOVA
MONTPELIER
MORENCI
Show All
Zip Codes
43316
43351
43359
43402
43403
43406
43410
43412
43416
43420
43430
43440
43443
43449
43450
43452
43460
43462
43465
43469
43501
43502
43504
43506
43512
43515
43516
43517
43518
43519
43521
43522
43525
43526
43527
43528
43532
43533
43534
43537
43542
43543
43545
43551
43553
43554
43556
43557
43558
43560
Show All
---