Youngstown's balance between urban convenience and rural charm make it a unique and beautiful place to live, but that balance doesn't come without consequences. Wildlife pest problems can be significant in Youngstown, despite its urban amenities. Luckily, Youngstown doesn't have to struggle with those wildlife problems themselves. Varment Guard is here to help! We've been helping the locals of Youngstown, OH deal with all varieties of wildlife problems for over twenty years. Should you ever require wildlife removal or exclusion in your Youngstown home or business, Varment Guard is the local service to call!
Youngstown, OH Wildlife Problems
Ohio is home to a wide variety of natural climes. We have bogs, woods, lakes, prairies, gorges, swamps, and marshes. This wide variety of landscapes comes with an equally wide variety of local wildlife. Varment Guard knows this, which is why we offer so many area-specific wildlife removal services.
Varment Guard offers a comprehensive set of wildlife control services for the humane removal of wildlife from your property. We provide animal removal services that include live-trapping, structural damage repair, exclusion, and more. We also provide wildlife exclusion services that include beavers, chipmunks, coyotes, geese, foxes, moles, rabbits, and more.
Keeping Critters in Their Place, Not Yours!
Varment Guard may not service all the areas the map above represents. Please get in touch with us for service area details.
Varment Guard Wildlife Services in Youngstown, OH
Varment Guard offers animal removal services and nuisance wildlife control for home residences and businesses. Our local Youngstown technicians are highly trained in offering comprehensive humane wildlife control solutions. Learn about some of the most common wildlife problems in the Youngstown area and how Varment Guard can help.
Quality Assured, Humane Control
The entire staff at Varment Guard is knowledgeable, trustworthy, resourceful, and passionate about preventing and solving wildlife and pest concerns for our clients. We're honored when they have something to say about it:
How Do I Get Started with Wildlife Control Near Me?
When it comes to safe, humane, and efficient wildlife removal in Youngstown, OH, you can count on the experts at Varment Guard. Schedule a service today to see for yourself.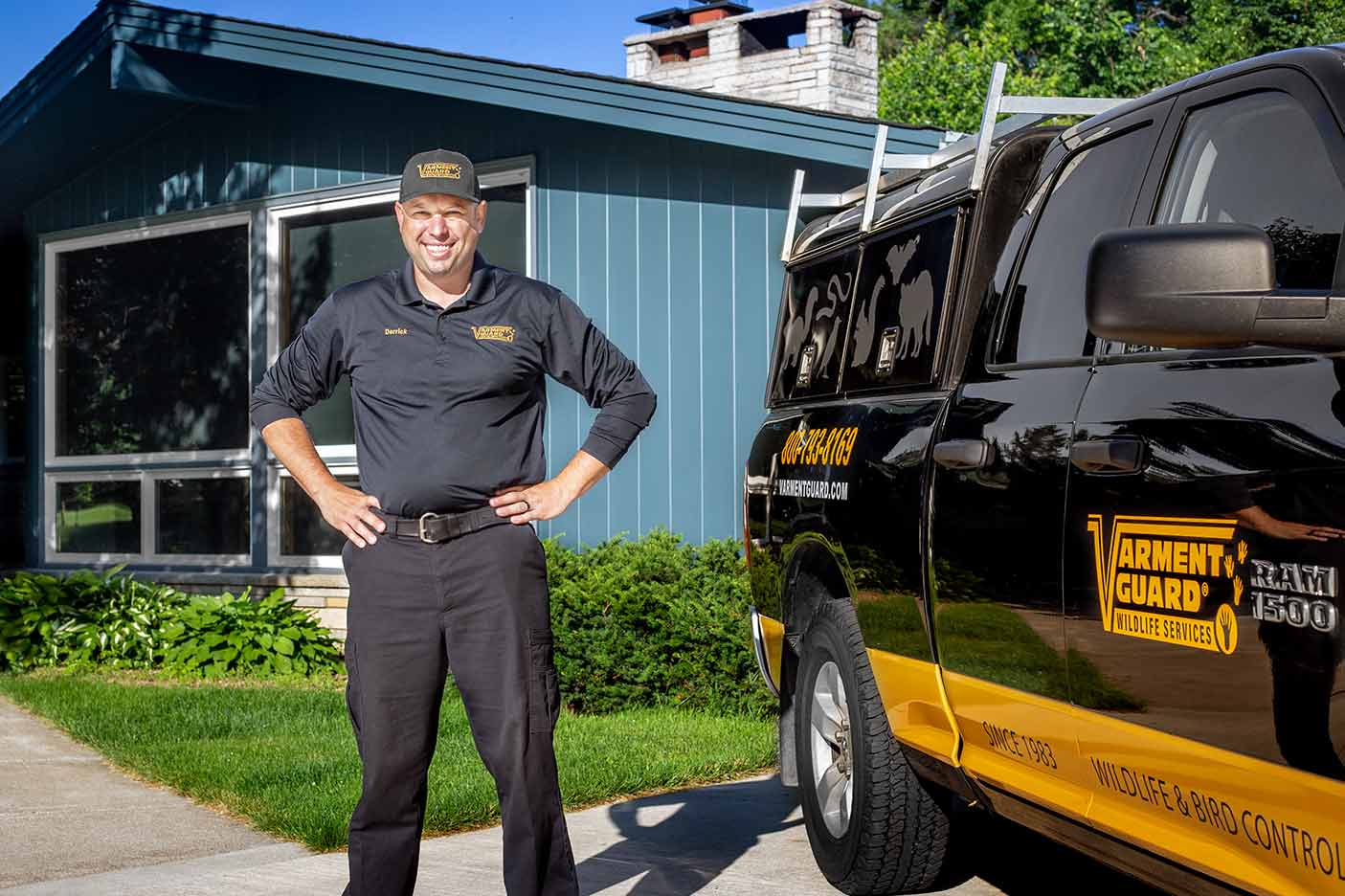 Looking for more relevant information?
Don't let pests, critters, or wildlife interrupt your life. Instead, learn about the best ways to exclude them from your property with a little help from the Varment Guard blog.
Looking for efficient and humane wildlife control near Youngstown, OH? 
Get in touch with the experts at Varment Guard today!
Our Local Team
Allison Surrena
Chris Sabo
Cody Gillfillan
Derek Beaver
Drew Daniels
Jared Miller
Jim Daly
Justin Weisent
Lucas Campbell
Mark Hoffacker
Rob Winters
Ryan Moss
Torrey Cox
Trina Webb
We proudly serve the following cities:
AUSTINTOWN
BELOIT
BERLIN CENTER
BOARDMAN
BRISTOLVILLE
BROOKFIELD
BROOKFIELD CENTER
BROOKFIELD TOWNSHIP
BURGHILL
CALCUTTA
CAMPBELL
CANFIELD
CLARK
CLARKS MILLS
COLUMBIANA
CORTLAND
EAST PALESTINE
EAST LIVERPOOL
EAST PALESTINE
FARRELL
FOWLER
FREDONIA
GIRARD
GREENVILLE
GROVE CITY
HADLEY
HERMITAGE
HICKORY TOWNSHIP
HOMEWORTH
HUBBARD
JACKSON CENTER
JAMESTOWN
KINSMAN
LAKE MILTON
LEETONIA
LISBON
LORDSTOWN
LOWELLVILLE
MASURY
MERCER
NEGLEY
NEW MIDDLETOWN
NEW SPRINGFIELD
NEW WATERFORD
NEW WILMINGTON
NEWTON FALLS
NILES
NORTH JACKSON
NORTH LIMA
ORANGEVILLE
Show All
Zip Codes
16113
16114
16121
16124
16125
16127
16130
16133
16134
16137
16142
16143
16145
16146
16148
16150
16153
16154
16156
16159
16161
43920
43945
43968
44401
44402
44403
44404
44405
44406
44408
44410
44413
44420
44425
44428
44429
44431
44432
44436
44438
44441
44442
44443
44444
44445
44446
44451
44452
44453
Show All
---