Raccoon Removal Fort Wayne, Indiana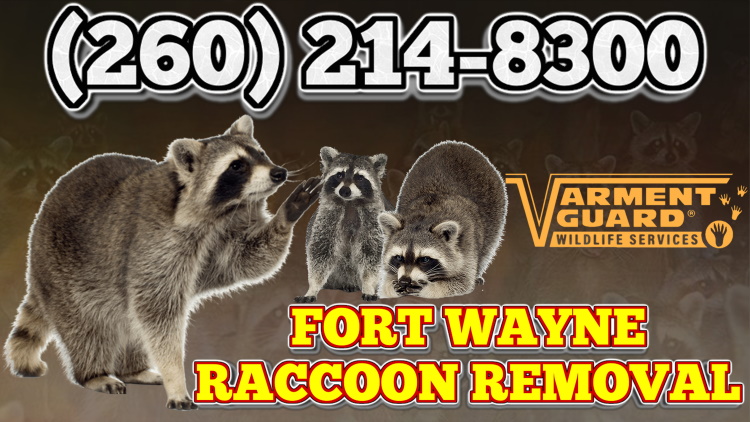 Raccoon Removal Fort Wayne
Looking for raccoon removal in Fort Wayne Indiana? In both the city of Fort Wayne and the countryside of Allen County, raccoons are common. They are actively searching for food, water, and shelter in the evenings and at night. They can open feed sacks and trash cans because they have quick hands and permanent masks. In addition to raiding your garden and chicken coop for a tasty meal, they enjoy searching holes in your yard to look for insects.
Even though raccoons are excellent climbers, if they notice an open door, including a pet door, they will choose the quickest way inside your home. They favor living in an attic. They may rip through walls, floors, and wires once they get inside to build a nest. They will accumulate foul-smelling, stained waste materials like excrement and urine close to the nest. Free Fort Wayne pest control.
They are a common sight in Fort Wayne, according to the specialists at Varment Guard Fort Wayne. This is how we deal with them:
Examination: During our inspection, we identify every entry point that unwelcome wildlife has inside your home.
We only use humane trapping before animal proofing is done. Since we don't want to trap an animal in your house, exclusion techniques are installed during the day after making sure the animal has left.
Repair: Sealing off any potential points of entrance into your home is the most crucial repair. Repairing walls and wires, changing screens on vents and chimneys, and sanitizing the bathroom area are common repairs. We remove away as much water and food as we can.
fort wayne indiana
control fort wayne
fort wayne animal
services fort wayne
wildlife removal company
Raccoon Control Fort Wayne Indiana
Call us right away if you need local assistance in Fort Wayne, Indiana, such as professional services, neighborhood rehabbers, state wildlife services, or local city or county animal services. Please be aware that no free agency will come to your house to take care of the problem for you if you need assistance with a problem at your home or property, such as a raccoons in the attic. You need to hire with a local, certified wildlife removal company, like Varment Guard Fort Wayne IN. 
The phone number and website for South Bend Animal Removal and Control are 574-235-9303 and animal-care-control.southbendin.gov, respectively.
Visit Providence Wildlife's website or call 317-902-DUCK for more information.
219-299-8027, Humane Indiana; website: https://humaneindiana.org/wildlife
Get Rid Of Raccoons in The Attic
Wildlife control specialists in Fort Wayne won't visit your house to solve your raccoon problem on your behalf. However, they can offer helpful guidance for resolving a all problems start to finish. If my how-to manual didn't cover your specific problem, perhaps a local trapper can guide. Additionally, a local trapper may be able to recommend a qualified professional who is ethical and humane if you do need to hire local assistance. Naturally, the ideal person to contact if you find a missing baby raccoon. Find out how to get rid of raccoons by calling us.
wildlife raccoon removal
wildlife removal fort
fort wayne raccoon
fort wayne squirrel
wayne wildlife control
indiana fort wayne
Wildlife Removal Fort Wayne - Common Wildlife Issues
Call for wildlife removal for nuisance raccoons in Fort Wayne. It is true that many users of our website require outside assistance. A professional Fort Wayne wildlife control operator will be better equipped to handle the problem in some more complex cases - both in terms of the right tools and the knowledge and experience to do it correctly. While many problems can be solved with straightforward preventative care, in some cases, more complex cases, it will be necessary to use more aggressive methods. However, it's crucial that you hire the correct company to work with. They differ from one another. Never hire with a pest control company that treats the problem with poisons. Before you hire a committed wildlife professional, make sure you ask the right questions. Before you hire someone, read my guide on what to ask on the phone. We recommend The Indiana Department of Wildlife can be reached at (317) 232-4200 or online at www.in.gov/dnr/fishwild/.
Fort Wayne Raccoon Removal Near Me
When dealing with a problem, your state's wildlife commission (or fish & game commission) can be a useful resource. They won't visit your house to provide services, but they can respond to inquiries regarding state wildlife regulations and perhaps offer guidance. They won't send a wildlife officer to deal with a raccoon problem, but they might be able to provide you the names of some registered businesses that can. Be aware that Indiana only cares about the legislation, not humane treatment. The death of an animal removed from a property for any reason is required in many states, including Fort Wayne Indiana.
Animal Control for Saint Joseph County can be reached at 574-255-4726 or online at southbendin.gov/department/code-enforcement/animal-care-control/.
South Bend City Hall's services of Animal Resources Center can be reached at 574-233-0311 for Fort Wayne.
Raccoon Dangers and Damages
Animal issues involving wild animals are not handled by the Saint Joseph County or local Fort Wayne animal removal services. They only deal with dogs and cats, which are domestic animals. This covers products and services including pet adoption, immunizations, reports of hazardous canines or animal cruelty, etc. They are an excellent source for household pets. But the majority will do nothing to protect wildlife. In exceptional circumstances, an officer may lend out a trap (often intended for feral cats) and, if a raccoon is caught in it, kill it. They might be able to recommend a local trapper in the area, but they won't check for ethical or humane treatment of the wildlife. If you choose, you can also contact the nearby Fort Wayne police station at (574) 235-9201 for assistance.
Humane Raccoon Trapping Process
Some of the methods of Fort Wayne raccoon control that are frequently employed by pest control businesses, nuisance wildlife trappers, and governmental organizations are discouraged by the Humane Society. Using poisons and cage traps are examples of this. Raccoons frequently endure suffering, even when they are moved alive. The problem can usually be solved using simple fixes or preventative measures. For instance, if you have raccoons in your attic, you might be able to get rid of them altogether using a few really easy methods. Learn more about raccoons in attics here. If you are unable to solve the issue on your own and require professional Fort Wayne raccoon removal services, I advise that you thoroughly study local businesses before making a hiring decision. It doesn't hurt to call the company first to confirm their procedures over the phone before you hire them, even if they claim to execute Fort Wayne raccoon control humanely.
This website attempts to inform both the professional public and expert Fort Wayne trappers about these creatures. Raccoons are widespread in Indiana, yet they are clever creatures who ought to be respected.
Fort Wayne Indiana Wildlife Removal Services
46774, 46797, 46798, 45813, 46745, 45832, 46714, 46755, 46770, 46781, 45898, 46731, 46738, 43526, 46804, 46748, 46765, 46741, 46777, 46783