Wildlife Removal: Chicago, Eastern & Southern
Illinois and Indiana are no strangers to wildlife pest problems. With the proximity of Lake Michigan and other bodies of water, these areas are an ideal habitat for many kinds of nuisance animals.
Varment Guard is familiar with all the animals and wildlife that roam the Chicagoland area and knows how to get and keep them away with professional wildlife control in Chicago, IL and the surrounding areas.
Varment Guard Offers Animal Control in Chicago and the Surrounding Area
Our animal removal services start with a comprehensive inspection by our licensed wildlife removal team (attic inspections, roof inspections, and foundation inspections). Then, we locate all animal entrance points and complete wildlife exclusions, animal entrance close-ups, and animal damage repair.
Schedule a service today to get started or keep reading to learn more about Varment Guard's commercial and residential animal control services in Illinois. We offer wildlife removal services in South Chicago areas, Eastern and Southeast Illinois, and Northwest Indiana.
Varment Guard may not service all the areas the map above represents. Please get in touch with us for service area details.
Varment Guard Services in My Area: Wildlife Removal in Illinois & Indiana
Whether you're looking for raccoon pest control, dead wildlife removal, bat control, or another type of animal control entirely, we've got you covered. Varment Guard provides wildlife control in the following Indiana locations:
Michigan City, IN
Laporte, IN
Hammond, IN
Woodville, IN
Gary, IN
Crown Point, IN
Dinwiddie, IN
Roselawn, IN
East Illinois and greater Chicago Service Areas
We also offer wildlife control in the following Illinois cities:
Oak Lawn, IL
Rollingbrook, IL
Orland Park, IL
Joliet, IL
Chicago Heights, IL
And more—reach out to Varment Guard today to learn more about our Illinois wildlife control service area.
Indiana Raccoon Removal, Illinois Bat Removal, and Beyond
Varment Guard technicians are highly trained in offering comprehensive humane wildlife control solutions for homes and businesses in Indiana and Illinois. From squirrel pest control to raccoon removal, you can count on us to get the job done. Our wildlife team gets and keeps pest animals away with the following services:
---
Varment Guard Wildlife Services
Varment Guard offers the services necessary to keep nuisance wildlife away from your property. Learn more about our wildlife removal and prevention services below:
Chicago Wildlife Control Near Me: What Kind of Nuisance Wildlife Does Varment Guard Deal With?
If you're searching for squirrel pest control near you, or you've been researching bird pest control companies, the search ends here. From bats to snakes to squirrels to birds, Varment Guard has experience with dozens of different species and offers the services you need to keep these unwanted visitors away. Learn more about some of Illinois and Indiana's most infamous pests and how Varment Guard can help remove and prevent them:
Quality Assured, Humane Control
Wildlife Control in My Area: How to Get Started
To get started with our animal control services, get in touch today. We are ready to get and keep nuisance wildlife away from your home or business. Whether you need raccoon removal in Illinois or dead animal removal in Indiana, we keep critters in their place… not yours!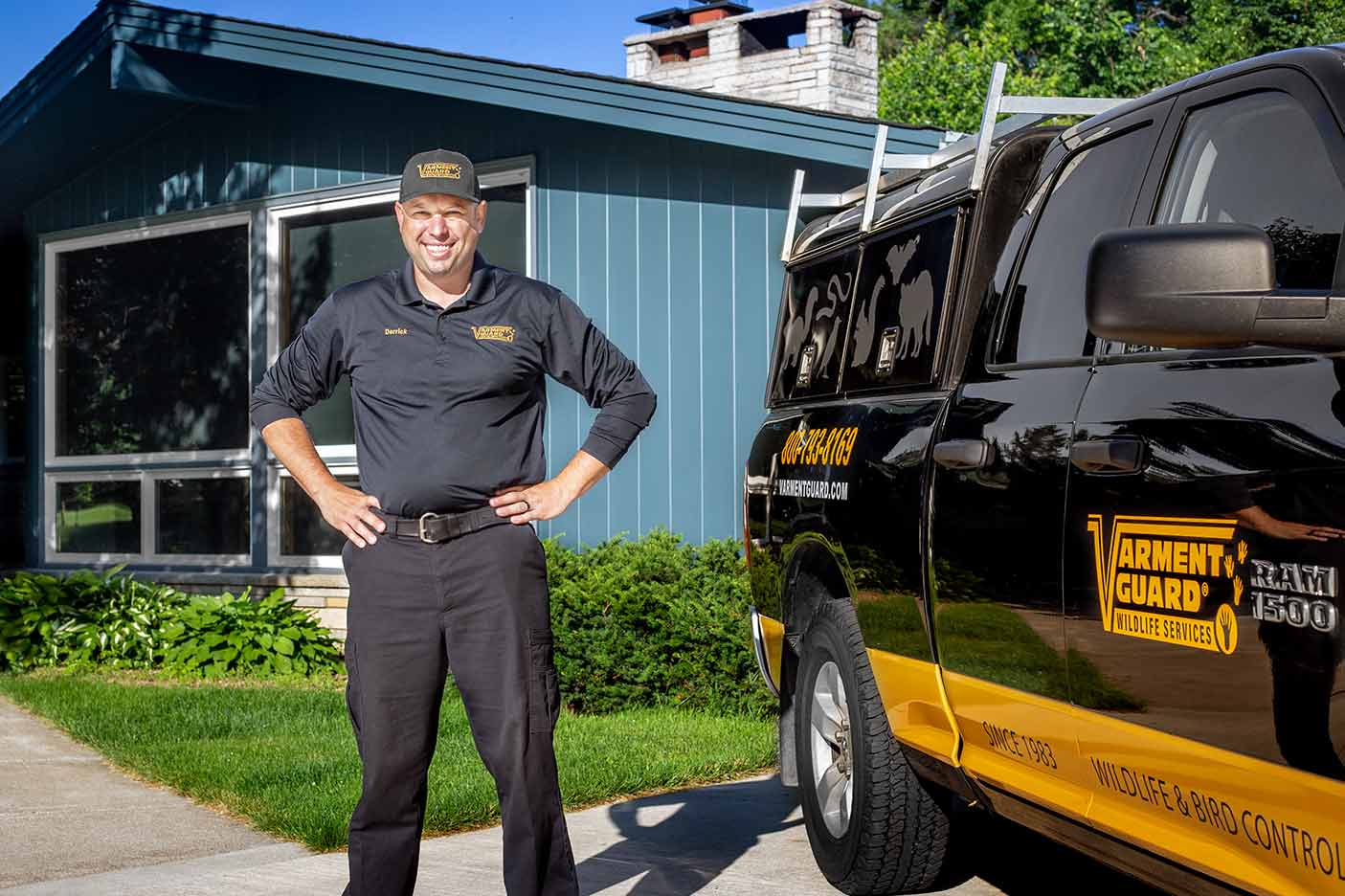 Frequently Asked Questions
Who Should I Call to Get Rid of a Squirrel in My House?
Call Varment Guard. We offer squirrel removal in Chicago and the surrounding areas. Squirrels become a nuisance when they gnaw into attics or use buildings for nesting sites and food storage. They may also move into spaces between walls and floors. They often gain access through vents, broken windows, knotholes, and construction gaps under eaves and gables. Learn more about Varment Guard's squirrel removal services or schedule a service today.
Our Local Team
Adam Gomez
Adam Jarosinski
Alex Guzman
Alex Nunez
Andy Van Laan
Aura Gomez
Carlos Fernandez
Chris O'Banion
Christian Edwards
Daryl Miller
David Simons
Deval Shah
Emelia Buffo
Evan Lenz
Gabe Hartwig
Garrett Russell
Jack Senese
Jacob Morsch
Jared Miller
Jason Foster
Jerell Owens
Joe Perry
Johnny McQuade
Kevin Heckler
Kevin Hurd
Mark Winston
Matt Moorehead
Matt Schwartz
Michael Teamer
Nick Espinoza
Norm Held
Pete Ward
Richard Rubalcava
Rick Schmidt
Rico Paredes
Rob Love
Ryan Augustin
Ryan Halcarz
Scott Steckel
Steve Dodd
Tommy Perkins
William Greene
Zachary Dunlap
We proudly serve the following cities:
ADDISON
ALGONQUIN
ALSIP
ANTIOCH
ARLINGTON HEIGHTS
AURORA
BANNOCKBURN
BARRINGTON
BARRINGTON HILLS
BARTLETT
BATAVIA
BEACH PARK
BEDFORD PARK
BEECHER
BELLWOOD
BENSENVILLE
BERWYN
BEVERLY SHORES
BLOOMINGDALE
BLUE ISLAND
BOLINGBROOK
BOLLINGBROOK
BOURBONNAIS
BRADLEY
BRIDGEVIEW
BROADVIEW
BROOK
BUFFALO GROVE
BURBANK
BURLINGTON
BURNHAM
BURR RIDGE
CALUMET CITY
CALUMET PARK
CAMPTON HILLS
CAROL STREAM
CARPENTERSVILLE
CARY
CEDAR LAKE
CHANNAHON
CHESTERTON
CHICAGO
CHICAGO HEIGHTS
CHICAGO RIDGE
CICERO
CLARE
CLARENDON HILLS
COAL CITY
COUNTRY CLUB HILLS
COUNTRYSIDE
Show All
Zip Codes
46301
46303
46304
46307
46310
46311
46312
46319
46320
46321
46322
46323
46324
46327
46341
46342
46347
46348
46349
46350
46356
46360
46368
46371
46373
46375
46382
46383
46385
46390
46391
46392
46394
46402
46403
46404
46405
46406
46407
46408
46409
46410
46411
46422
46532
46552
47922
47951
47963
47977
Show All
---