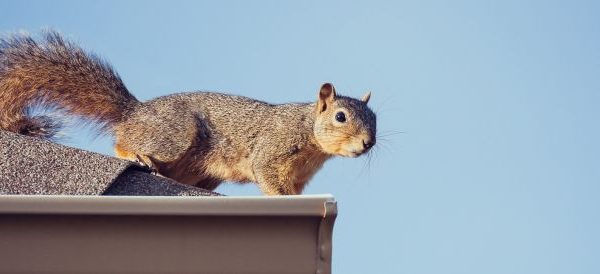 ABOUT SQUIRRELS
Common Name: Eastern Gray Squirrel / Eastern Fox Squirrel / Red (pine) Squirrel / Southern Flying Squirrel
Scientific Name: Sciurus carolinensis / Sciurus niger / Tamiasciurus hudsonicus / Glaucomys volans
HOW TO GET RID OF SQUIRRELS:
Live-Trapping
For nuisance squirrels live trapping is the method of choice.
Click here to learn more about live squirrel trapping.
Squirrel Exclusion
Exclusion is the best and most permanent solution to squirrels gaining access to dwellings. Learn more about squirrel exclusion.
Habitat Modification And Cultural Control
Pruning -Tree branches should be pruned at least six feet from all building surfaces. The removal of tree limbs that overhang the roof will sometimes eliminate access by squirrels. [Any distance of 6 feet or less can be considered an easy jump for most tree squirrels.] Refraining from feeding. Feeding squirrels and coaxing them to approach dwellings and people is a sure way to encourage nesting in nearby trees or the dwelling itself, if accessible. Those who have squirrels invading or damaging structures should be admonished to refrain from feeding squirrels close to occupied buildings. Likewise, squirrels that routinely gain access to backyard or window bird feeders can be discouraged from continuing their raids as a result of refraining from providing feeding sources.

Learn more about our Tree Pruning Service.
What Kind of Damage Can Squirrels Cause?
Squirrels can cause damage or become a nuisance to the homeowner when they use buildings for nesting sites and food storage or they gnaw into attics to take up residence. They also may move into spaces between walls and floors. They often gain access through vents, broken windows, knotholes, and construction gaps under eaves and gables. Squirrels have a remarkable ability to destroy wooden shakes and shingles, cedar seeming to be their favorite.
The amount of structural damage may at times be severe. They can be particularly destructive to summer or vacation cabins which are vacant during part of the year, as they are free to continue their activities until the owners return. Garages, barns, stables, tool sheds and other buildings often serve as homes for tree squirrels. Rarely do tree squirrels take up residence inside an occupied building without being seen or heard at once.
The typical evidence of tree squirrels includes droppings, gnawed holes, nest materials, food stores, shells, nut hulls, fruit pits, and other food remnants. If squirrels are in the attic or garage, the occupant will likely hear them moving about, even if one has not seen them. In backyards and in landscaped areas, squirrels will dig up vegetable and flower gardens, primarily for seeds and bulbs.
Seasonally, they will clip flower buds and leaves and often strip the bark from trees and various ornamental plants. They are particularly fond of maturing nuts and fruit; and where only a few trees exist in a backyard, they can literally strip them of a crop of walnuts, hickory nuts, etc. Tree squirrels are fond of burying food items, such as acorns and nuts, and their diggings can be very destructive to turf and other landscaped areas. Utility companies report that tree squirrels often cause loss of electrical and telephone service by gnawing into cables and stripping insulation. This damage causes shorting, sometimes resulting in fires, or grounding and can be difficult and costly to repair. Power outages cause significant economic losses. Overhead power and communication lines are frequently used by tree squirrels to travel from one site to another.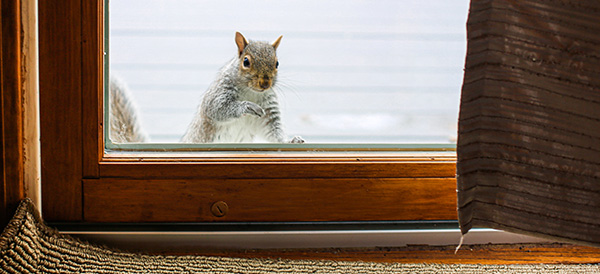 Eastern Gray Squirrel
Adult body length (without tail): 8 to 10 inches
Adult body weight: 1 1/3 to 1 2/3 pounds
Gestation period: 42 to 45 days
Litters per year: 1 to 2
Litter size: 2-3 young
Breeding season: December through January & June
Birthing season: February through March & July through August
Age at which young are weaned: 10 to 12 weeks
Activity period: Daytime
Range: 1 to 160 acres
Primary foods: Seeds, acorns, nuts, fruits, vegetables, live bark
Southern Flying Squirrels
Adult body length (without tail): 5 to 6 inches
Adult body weight: 1 1/3 to 3 ounces
Gestation period: 40 days
Litters per year: 1 to 2
Litter size: 3 to 4 young (usually 3)
Breeding season: February through March & June through July
Birthing season: April through May & August through September
Age at which young are weaned: 7 weeks
Activity period: Night
Range: 1 to 100 acres
Primary foods: Insects, seeds, nuts, fruits, vegetables
Red (Pine) Squirrel
Adult body length (without tail): 6 to 8 inches
Adult body weight: 5 to 10 ounces
Gestation period: 35 to 38 days
Litters per year: 1 to 2
Litter size: 3 to 8 young (usually 3)
Breeding season: February through March & July through August
Birthing season: March through May & August through October
Age at which young are weaned: 10 to 12 weeks
Activity period: Daytime
Range: 1 to 100 acres
Foods: Seeds, acorns, nuts, fruits, vegetables, live bark, pine cones
Eastern Fox Squirrel
Adult body length (without tail): 10 to 15 inches
Adult body weight:1 2/3 to 2 1/3 pounds Gestation period: 42 to 45 days
Litters per year: 1 to 2
Litter size: 3 to 5 young (usually 3)
Breeding season: December through January & June
Birthing season: February through March & July through August
Age at which young are weaned: 10 to 12 weeks
Activity period: Daytime
Range: 1 to 160 acres
Primary foods: Seeds, acorns, nuts, fruits, vegetables, live bark
Frequently Asked Questions: