Animal Control: Champaign, Illinois
Champaign, IL is no stranger to wildlife pest problems. The city is an urban hub with prairies and nearby waterways, making it an ideal habitat for a plethora of wildlife pests.
Champaign and the surrounding area don't have to go it alone, however. Varment Guard is familiar with all the pests and wildlife that roam the area and knows how to keep them away with professional wildlife services.
Wildlife Exclusion, Prevention, Inspection, and More
Our animal removal services start with a comprehensive inspection by our licensed wildlife removal team (attic inspections, roof inspections, and foundation inspections). Then, we locate all animal entrance points and complete wildlife exclusions, animal entrance close-ups, and animal damage repair.
Schedule a service today to get started or keep reading to learn more about Varment Guard's commercial and residential Champaign county animal control services.
Varment Guard may not service all the areas the map above represents. Please get in touch with us for service area details.
Illinois Animal Control: Where Can I Find Efficient and Humane Wildlife Services Near Me?
Whether you're looking for dead wildlife removal near me or humane wildlife removal near me, we've got you covered. Varment Guard proudly provides wildlife removal and prevention services in Champaign, Georgetown, Mattoon, Tuscola, Effingham, and Greenup Illinois.
---
Varment Guard Champaign Animal Control Services
Varment Guard technicians are highly trained in offering comprehensive humane wildlife control solutions for homes and businesses in Champaign, Illinois. From dead wildlife removal to animal exclusion and prevention, you can count on us to get the job done. Our wildlife team gets and keeps pest animals away with the following services:
Wildlife Removal Champaign: What are Common Nuisance Animals in Illinois?
Your Illinois home or business is at risk of an infestation from over a dozen different species, from bats to snakes to squirrels. Learn more about the most common nuisance wildlife pests in Champaign, IL and how Varment Guard can help prevent them:
Quality Assured, Humane Control
The entire staff at Varment Guard is knowledgeable, trustworthy, resourceful, and passionate about preventing and solving wildlife and pest concerns for our clients. We're honored when they have something to say about it:
How Do I Get Started with Wildlife Control Near Me?
To get started with our animal control services, get in touch today! We are ready to get and keep nuisance wildlife away from your home or business. At Varment Guard, we keep critters in their place… not yours!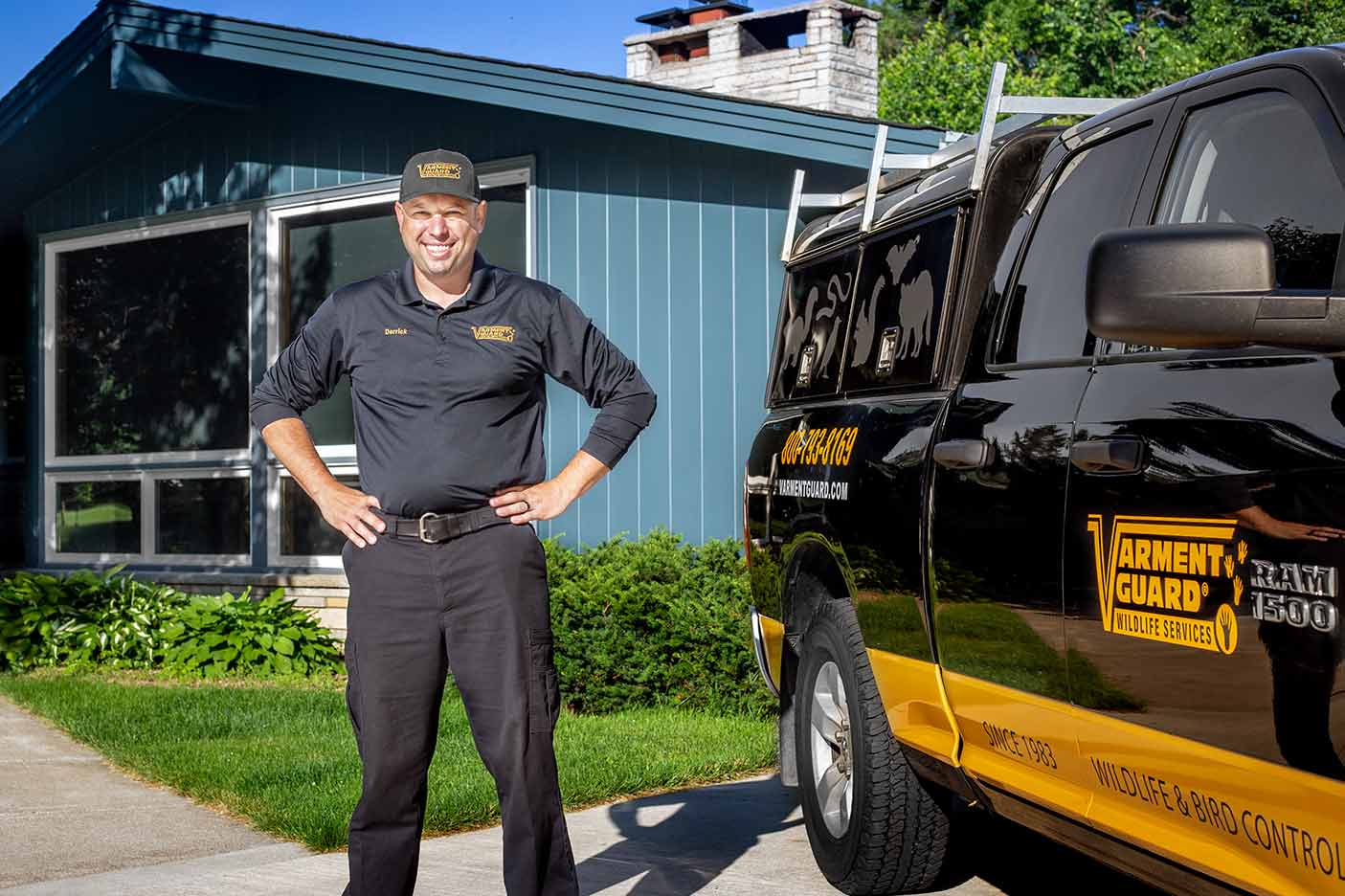 Our Local Team
Aaron Evans
Alejandro Buenrostro
Brandon Followell
Bryant Magnus
Chris Bennett
Chris Gregory
Jaime Phelps
Melissa Loveall
Michael Lyday
Tim Smith
Will Glovinsky
We proudly serve the following cities:
ALTAMONT
ARCOLA
ARGENTA
ARTHUR
AUBURN
BEMENT
BLUE MOUND
CANTRALL
CHAMPAIGN
CHAMPAINE
CHARLESTON
CHATHAM
CHESTNUT
CLINTON
DANVILLE
DECATUR
EFFINGHAM
FAIRMOUNT
FARMER CITY
FISHER
FORSYTH
GEORGETOWN
GIBSON CITY
GIFFORD
GREENUP
HOMER
HOOPESTON
ILLIOPOLIS
JACKSONVILLE
LATHAM
LINCOLN
LOVINGTON
MAHOMET
MAROA
MATTOON
MECHANICSBURG
MEREDOSIA
MONTICELLO
MONTROSE
MOUNT PULASKI
MOUNT ZION
MT PULASKI
MT ZION
MT. PULASKI
NEOGA
NEWMAN
OAKLEY
OREANA
PANA
PETERSBURG
Show All
Zip Codes
60936
60942
60959
61727
61756
61801
61802
61813
61820
61821
61822
61832
61833
61834
61841
61842
61843
61846
61847
61849
61853
61856
61866
61870
61874
61875
61876
61877
61880
61883
61884
61910
61911
61920
61937
61938
61942
61951
61953
61956
62401
62411
62428
62445
62447
62501
62513
62518
62521
62522
Show All
---