Wildlife capture and removal in Grand Rapids, MI
Grand Rapids, Battle Creek, and Kalamazoo are all located within 100 miles of Lake Michigan. They're all home to several universities and colleges. Like most Michigan cities, they have rivers running through them. Like nearly all Michigan cities, they're located near dense forests. Between the water, the forests, and the universities, these three cities have one more thing in common: wildlife pests.
Between the many lakes and rivers and dense forests of Michigan's lower peninsula, Grand Rapids, Battle Creek, and Kalamazoo see plenty of nuisance wildlife problems, especially in spring and summer. However, whenever any of the three cities have a problem, they each need only contact one service: Varment Guard Wildlife Services. Varment Guard technicians have long served the area of Grand Rapids, Michigan. No matter your wildlife pest problem, Varment Guard is your solution.
Keeping Critters In Their Place, Not Yours.
Varment Guard may not service all the areas the map above represents. Please get in touch with us for service area details.
Varment Guard Wildlife Services in Grand Rapids, MI
Varment Guard offers animal removal services and nuisance wildlife control for home residences and businesses. Our local Grand Rapids technicians are highly trained in offering comprehensive humane wildlife control solutions. Learn about some of the most common wildlife problems in the Grand Rapids area and how Varment Guard can help.
How Do I Get Started with Wildlife Control Near Me?
To get started with our animal control services, get in touch today! We are ready to get and keep nuisance wildlife away from your home or business. At Varment Guard, we keep critters in their place… not yours!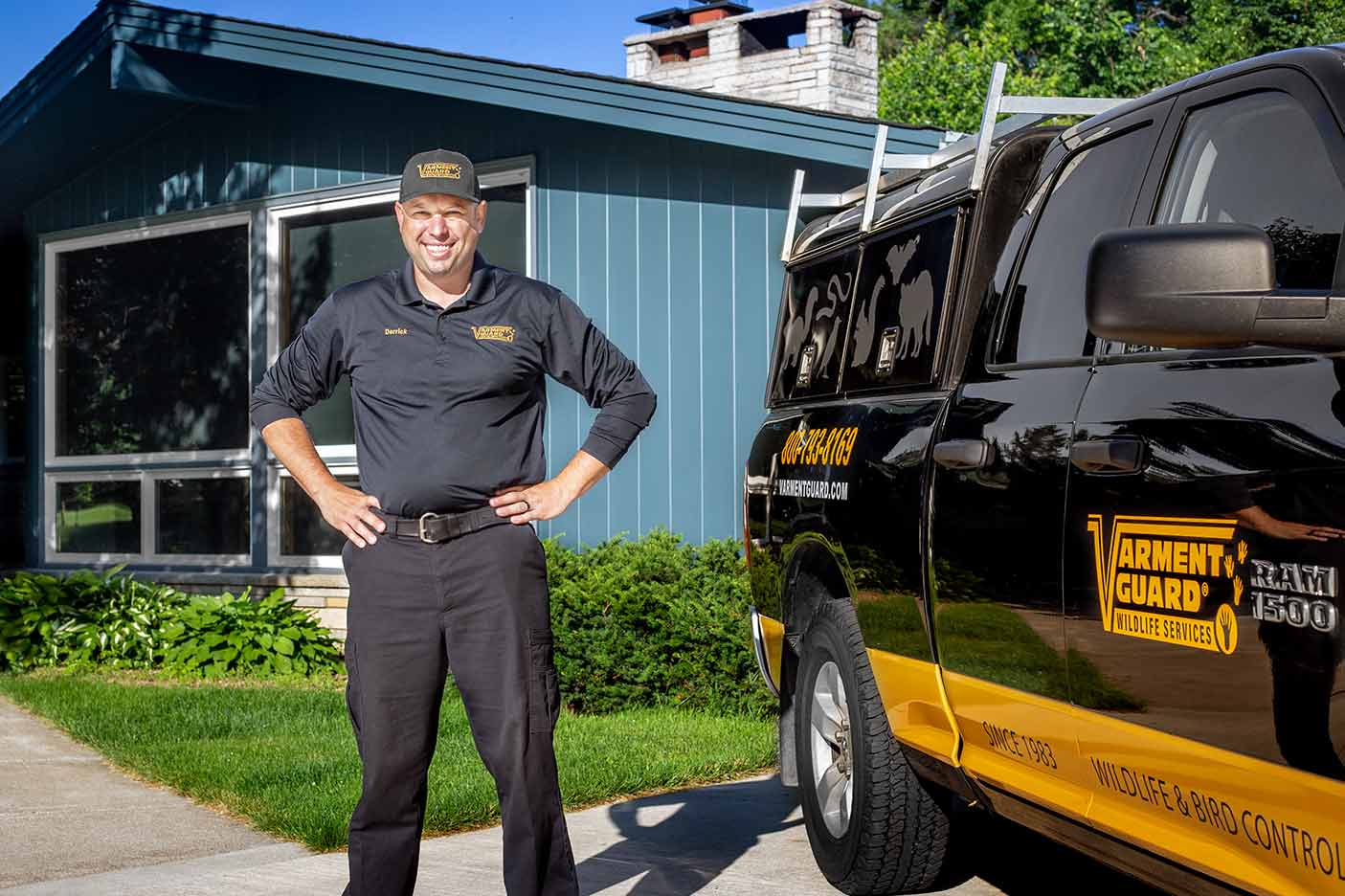 Our Local Team
Alex Kolk
Austin Short
Austin Wittmuss
Brett Organek
Brock Rolsten
David Roberts
Evan Lenz
Gabe Hartwig
Glenn Geurink
Jack Waterway
Jared Miller
Jeremy Tucker
Johnny McQuade
Ken Elliott
Kory Aymer
Sarah Weiss
Solamen Rettelle
We proudly serve the following cities:
ADA
ALBION
ALLEGAN
ALLENDALE CHARTER TOWNSHIP
AUGUSTA
BANGOR
BATTLE CREEK
BELMONT
BRONSON
BYRON CENTER
CALEDONIA
CASCO TOWNSHIP
CEDAR SPRINGS
COLDWATER
COMSTOCK PARK
COOPERSVILLE
COVERT
CRYSTAL
DELTON
DORR
DOUGLAS
DOWLING
EAST GRAND RAPIDS
EDMORE
FENNVILLE
FERRYSBURG
FREEPORT
GALESBURG
GEORGETOWN TOWNSHIP
GEORGETOWN TWP
GOBLES
GOWEN
GRAND HAVEN
GRAND RAPIDS
GRANDVILLE
GREENVILLE
HAMILTON
HARTFORD
HASTINGS
HICKORY CORNERS
HOLLAND
HOMER
HOPKINS
HUDSONVILLE
IONIA
JENISON
KALAMAZOO
KENT CITY
KENTWOOD
LAWRENCE
Show All
Zip Codes
48002
48345
48818
48829
48838
48846
48865
48888
49001
49002
49004
49006
49007
49008
49009
49010
49012
49013
49014
49015
49017
49024
49028
49036
49037
49043
49046
49048
49050
49053
49055
49057
49058
49060
49064
49065
49068
49070
49071
49073
49078
49079
49080
49082
49083
49087
49090
49091
49093
49097
Show All
---