Rochester has been rated as one of the best cities to live in the United States in a wide variety of publications. That's because it's welcoming, a home for world-renowned healthcare at the Mayo Clinic, and a vibrant and varied culture. It's also because people who live in Rochester know what to do when they have problems with local wildlife: call Varment Guard.
We'll answer your call with one of our many expert wildlife exclusion and removal services. Guaranteed.
Rochester, MN Wildlife Problems
Minnesota is no stranger to robust wildlife populations. We're the home of ten thousand lakes and then twenty thousand species that rely on them, after all. When it comes to cutting infestations from these species short, expert assistance is required. That's why Varment Guard offers such a definitive selection of wildlife removal services.
We provide a comprehensive set of wildlife control services for the humane removal of wildlife from your property. Our animal removal services include live-trapping, structural damage repair, exclusion, and more.
Keeping Critters in Their Place, Not Yours!
Varment Guard may not service all the areas the map above represents. Please get in touch with us for service area details.
Varment Guard Wildlife Services in Rochester, MN
Varment Guard offers animal removal services and nuisance wildlife control for home residences and businesses. Our local Rochester technicians are highly trained in offering comprehensive humane wildlife control solutions. Learn about some of the most common wildlife problems in the Rochester area and how Varment Guard can help.
Quality Assured, Humane Control
The entire staff at Varment Guard is knowledgeable, trustworthy, resourceful, and passionate about preventing and solving wildlife and pest concerns for our clients. We're honored when they have something to say about it:
How Do I Get Started with Wildlife Control Near Me?
When it comes to safe, humane, and efficient wildlife removal in Rochester, MN, you can count on the experts at Varment Guard. Schedule a service today to see for yourself.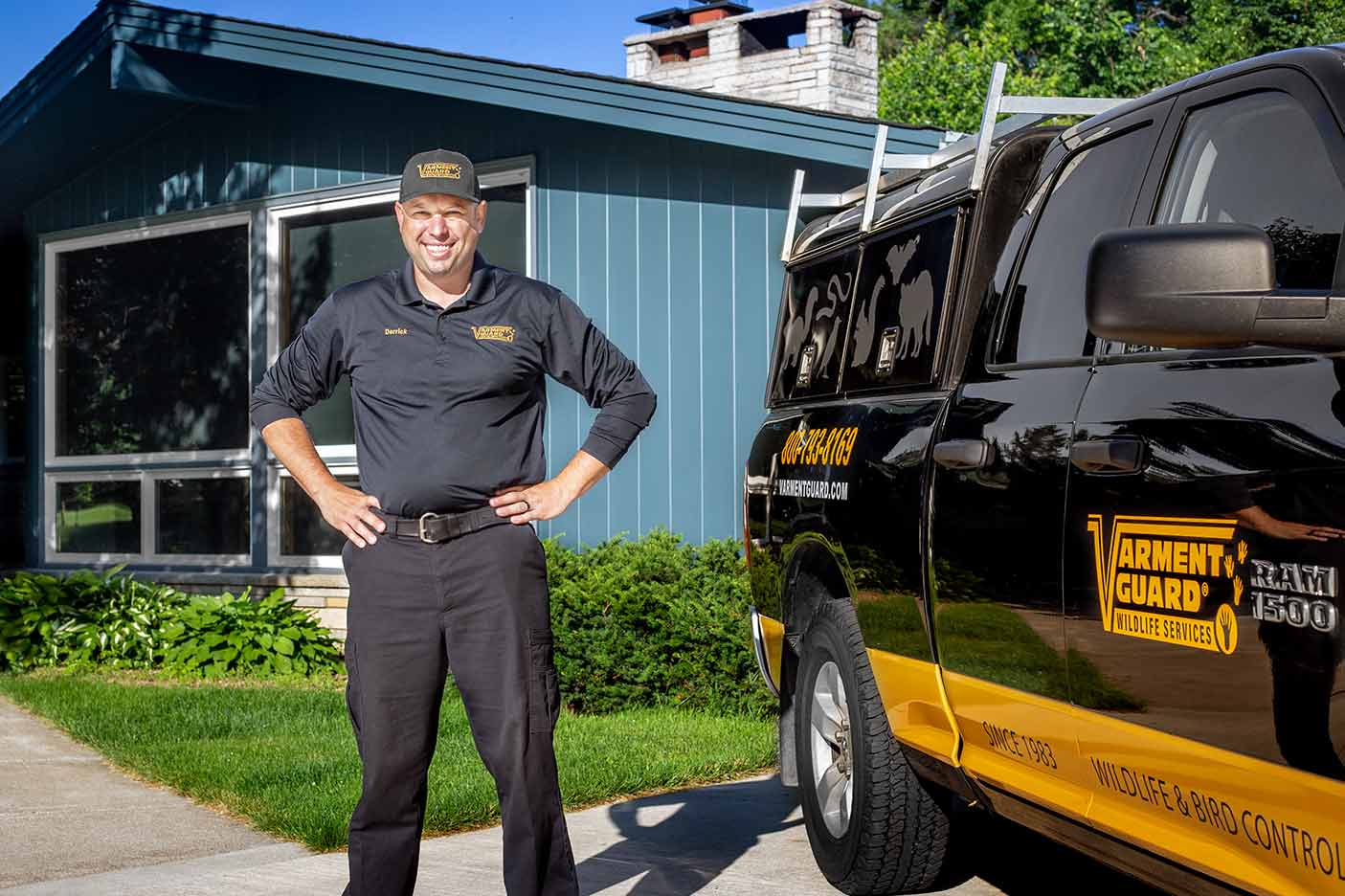 Looking for more relevant information?
High quality wildlife removal services in Rochester start and ends with Varment Guard. We offer reliable expert services while staying committed to keeping our clients trained on the latest, greatest exclusion techniques. Some of those techniques have already been outlined in our blog:
Looking for efficient and humane wildlife control near Rochester, MN
Get in touch with the experts at Varment Guard today!
Our Local Team
Adam Peterson
Bethany VanLaningham
Bill Otten
Brian Owens
Bryan Harvey
Chris Ralph
Christopher Connoy
Dan Charlson
Daniel Kirkeby
Darryl Kuhl
Dean Scott
Derrick Benz
Dustin Berding
Garrett Russell
Isaac Carranza
Jack Shaw
Jacob Gehling
Jaime Phelps
James Doerr
Jared Miller
Jason Maier
Joe Puchtel
John Reiman
Justin Carlson
Keith Markun
Kyle Maas
Kyle Norland
Mike Barry
Nathan Lenzen
Paul Seltman
Shay Brandt
Skyler Shears
Stan Wright
Stephen Flodeen
Steve Stough
Steven Leeper
Tanner Niemeyer
Ted Kiefer
Todd Hultgren
Tom Bulander
Zack Oakley
We proudly serve the following cities:
ADAMS
ALBERT LEA
ALBERT LEE
ALDEN
ALTA VISTA
AUSTIN
BLOOMING PRAIRIE
BRITT
BROWNSDALE
BUFFALO CENTER
BYRON
CANTON
CARPENTER
CHARLES CITY
CHATFIELD
CHESTER
CITY OF RUSHFORD VILLAGE
CLAREMONT
CLARKS GROVE
CLEAR LAKE
CONGER
CORWITH
CRESCO
CRYSTAL LAKE
DEXTER
DODGE CENTER
DOUGHERTY
DOVER
DOVER TOWNSHIP
ELGIN
ELKTON
ELLENDALE
ELMA
EMMONS
EYOTA
FERTILE
FLOYD
FOREST CITY
FOUNTAIN
FREEBORN
GARNER
GENEVA
GLENVILLE
GOODELL
GRAFTON
GRAND MEADOW
GREENE
HANLONTOWN
HARMONY
HARTLAND
Show All
Zip Codes
50401
50402
50423
50424
50426
50428
50430
50431
50432
50433
50434
50435
50436
50438
50439
50440
50444
50446
50447
50448
50450
50453
50455
50456
50457
50458
50459
50461
50464
50465
50466
50468
50469
50471
50472
50473
50475
50476
50477
50478
50479
50482
50483
50484
50550
50603
50616
50628
50636
50653
Show All
---