The Scene Of The Crime
For many of our Wildlife Management Specialist professionals, searching for clues on how moles, raccoons, or opossums are getting into a client's home can feel a lot like detective work. Like a seasoned criminal, these critters only leave behind small clues on how or where they get access to your place, but we are up to the task when it comes to solving the mystery!
It did feel like someone may have taken the analogy a little too far when we received a call to come to the aid of an individual that was having packages stolen off their porch. "Maybe a real detective from law enforcement should be on the case here?" we thought, until we watched the home security video from the overwrought caller.
This groundhog in the Cleveland area has no shame in its game as it clutches the delivered package, goes head-over-tail down the porch stairs, then heads out across the lawn with the unsuspecting homeowner's goods in its mouth.
The homeowner never did get her package of Lululemon products. "They're gone" said Kelly Svoboda with a chuckle. "I looked around the neighborhood a little bit but found no trace of my package." This crafty thief has eluded capture, day after groundhog day, but we'll be putting a stop to that soon! Our technicians are working around the clock to capture the caper responsible for this porch piratery.
Wildlife Wreaking Havoc On Your Deliveries?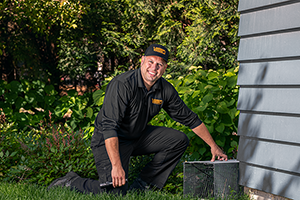 While there isn't much we can do about the larger porch pirates that run around on two legs, you can rest assured giving the professionals at Varment Guard a call today will put an end to any criminal critters that are nesting in your attic, destroying your property, or even taking your packages. We have the knowledge and resources to remove wildlife safely and humanely, even if we aren't able to recover your new yoga pants.