Plunkett's Pest Control, Inc. has acquired Illiana Wildlife & Pest Control based in Valparaiso, Indiana. Illiana provides full-service residential and commercial wildlife and pest services throughout northwest Indiana and Eastern Illinois, bolstering business in one of Plunkett's areas of interest.
"This opportunity to strengthen our team in northwest Indiana and expand into the Chicagoland area is key," that according to Jared Miller, director of Varment Guard, Plunkett's wildlife division. "Plus, we added three wildlife techs and one pest tech that are well-trained, knowledgeable, and experienced. We're glad they chose to come with us."
As for his reason for selling, Illiana's owner, Bob Jansma, said, "The main reason is to take better care of my employees. As a small company owner, I tried hard to find ways to increase their wages and provide health insurance, but it just wasn't feasible. We have great people who work hard for us; they deserve those things, and, with Plunkett's, they'll get it. I've communicated to my team that Plunkett's can be trusted and will treat them right, and Jared has been more than willing to spend time with each of them."
Jansma said he'd been flirting with selling for a little while, talking to a few interested parties, both large and small, but ultimately chose Plunkett's/Varment Guard because, "it's all about the trust. They were the only company that asked what they needed to do to take care of my customers and documented what my customers expect. It wasn't just about the business assets they were gaining."
ABOUT PLUNKETT'S PEST CONTROL
Founded in 1915 in Minneapolis, Minnesota, Plunkett's Pest Control, Inc. is a family-owned and operated corporation led by third-generation president, Stacy O'Reilly.
Still based in Minneapolis, with regional offices in Columbus, OH and Farmington, NM, Plunkett's delivers professional pest control services to over 74,000 residential and commercial clients in 22 states.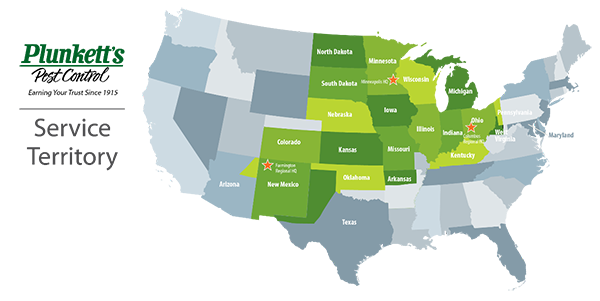 ABOUT ILLIANA WILDLIFE & PEST CONTROL
Started in 2013, Illiana Wildlife and Pest Control provided effective, humane services for the prevention and removal of nuisance wildlife, rodents, and insect pests, plus animal damage repair.
Based in Valparaiso, Indiana, Illiana served 1,200+ residential and commercial clients in two states.