Plunkett's Pest Control, Inc. has acquired Langman's Wildlife & Pest Control based in Terre Haute, Indiana. Langman's provides full-service residential and commercial wildlife and pest services throughout Indiana and Eastern Illinois. With this acquisition, Plunkett's boosts its service capacity in Indiana and Illinois.
According to Plunkett's owner, Stacy O'Reilly, "What really impresses me about Langman's is the way they work as a team. Given the complexity and safety profile of wildlife work, we respect their selfless, team approach. We aspire to build that same comradery in every area in which we work."
Langman's owner, Will Langman, had this to say, "Being a family-owned business, we are thrilled about selling to another generational company that shares the same service values and commitments we do. It's easy to see that customers are number one at Plunkett's. Customers drive every decision with them and that's how we've operated. It makes if feel like we're leaving our customers and our employees in good hands as we transition to focus solely on Pest-Blok, the other part of our business." Pest-Blok produces specialty exclusion products for wildlife and pest management.
Wayne Langman started Langman's Wildlife and Pest Control back in the 60s. With a reputation as an excellent fur trapper, locals started asking Wayne to assist with their pest problems. From there, the business grew. Wayne's son, Will, and his wife Dianne assumed ownership in 2002.
ABOUT PLUNKETT'S PEST CONTROL:
Founded in 1915 in Minneapolis, Minnesota, Plunkett's Pest Control, Inc. is a family-owned and operated corporation led by third-generation president, Stacy O'Reilly.
Still based in Minneapolis, with regional offices in Columbus, OH, and Farmington, NM, Plunkett's delivers professional pest control services to over 74,000 residential and commercial clients in 22 states.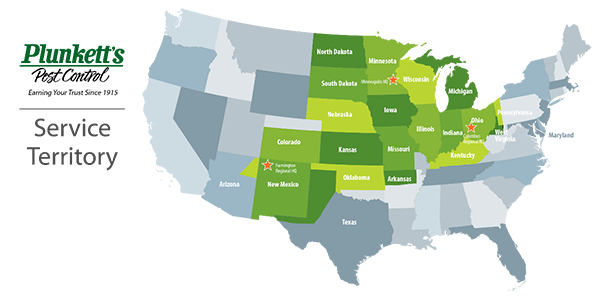 ABOUT LANGMANS WILDLIFE & PEST CONTROL
Started in the 1960's, Langman's Wildlife and Pest Control has provided complete pest solutions including the removal of pests, repair of animal damage and wildlife waste clean-up services.
Based in Terre Haute, Indiana, Langman's services 500+ residential and commercial clients in two states.