Minneapolis and St. Paul, MN are two very different cities with very similar varment problems. These problems stem from harsh winters, humid summers, and the presence of hearty nature and forestation on all sides. Both of the twin cities are ideal breeding grounds for problem wildlife like raccoons, bats, squirrels, rodents, birds, moles, and more.
Varment Guard offers the exclusion and removal services you need to keep this wildlife where it belongs: in the wild. Contact us today to learn more about how we can keep your home or business permanently wildlife pest-free.
Minneapolis and St. Paul, MN Wildlife Problems
Minnesota is no stranger to nature. Between the tall trees, wide lakes, and dense forests live a lot of native wildlife species like groundhogs, squirrels, chipmunks, and more. These unwanted visitors can cause costly problems for local home and business owners. Because of this, Varment Guard offers a wide breadth of locally focused wildlife removal services.
We provide a comprehensive set of wildlife management and control services for the humane removal of wildlife from your property. Our services include live-trapping, structural damage repair, exclusion, and more.
Keeping Critters in Their Place, Not Yours!
Varment Guard may not service all the areas the map above represents. Please get in touch with us for service area details.
Varment Guard Wildlife Services in Minneapolis, MN
Varment Guard offers animal removal services and nuisance wildlife control for home residences and businesses. Our local Minneapolis technicians are highly trained in offering comprehensive humane wildlife control solutions. Learn about some of the most common wildlife problems in the Minneapolis area and how Varment Guard can help.
Quality Assured, Humane Control
The entire staff at Varment Guard is knowledgeable, trustworthy, resourceful, and passionate about preventing and solving wildlife and pest concerns for our clients. We're honored when they have something to say about it:
How Do I Get Started with Wildlife Control Near Me?
When it comes to safe, humane, and efficient wildlife removal in the Twin Cities, you can count on the experts at Varment Guard. Schedule a service today to see for yourself.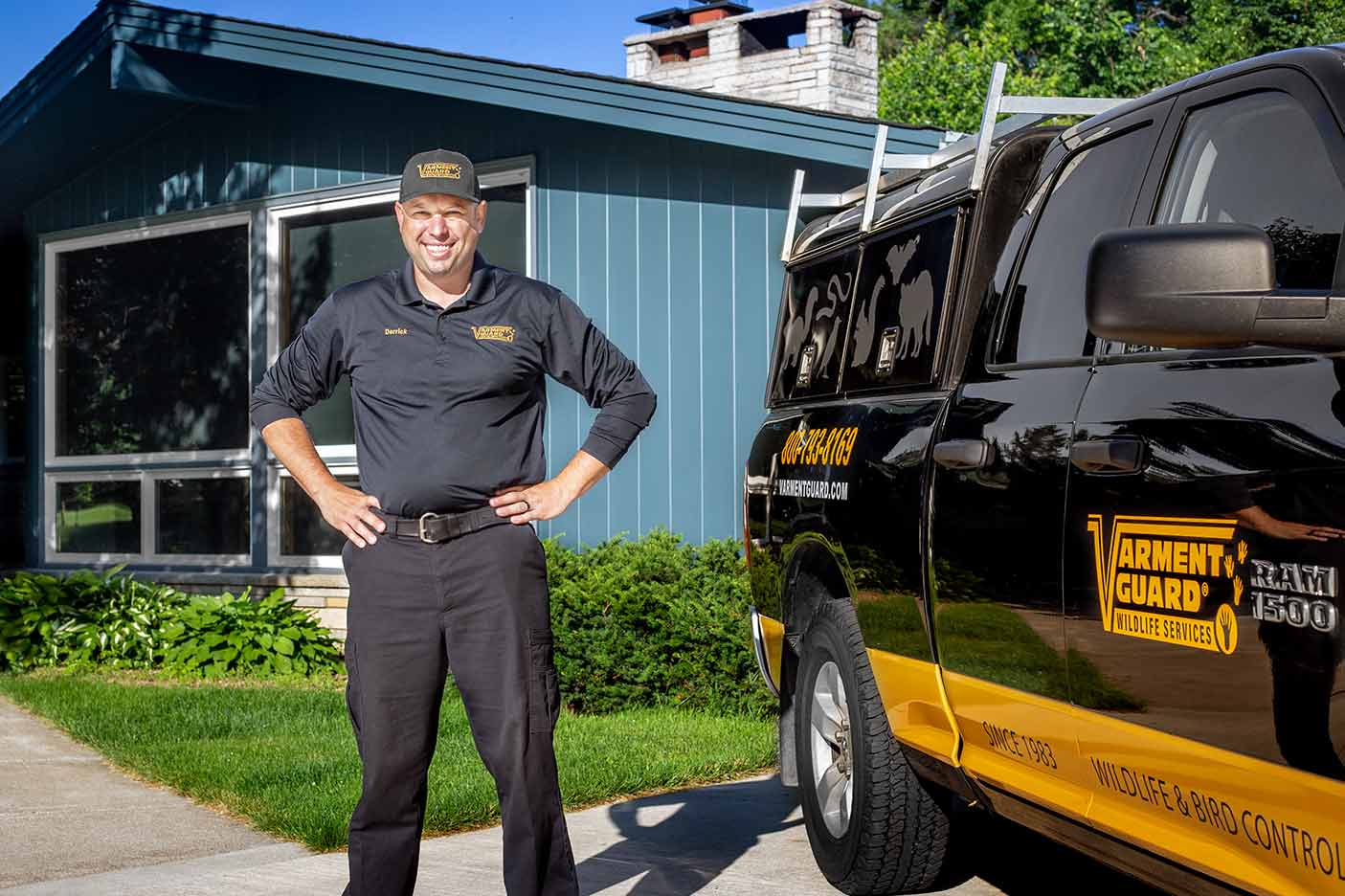 Looking for more relevant information?
Being well versed in St. Paul and Minneapolis wildlife control procedure has a few distinct steps. Steps like knowing which local pest control company to call when you're in need of help or how to prevent certain wildlife from infesting your property. Learn more:
Looking for efficient and humane wildlife control in the Twin cities? 
Get in touch
 with the experts at Varment Guard today!
Frequently Asked Questions
Our Local Team
Aaron Graves
Aaron Holland
Aaron Ites
Adam Kaluza
Adam Mishler
Adrian Dahl
Andrew Ritter
Artie Neumeister
Austin Gaughran
Austin Orren
Austin Stewart
Barrett Ingvaldson
Ben Morrisette
Bennett Olmanson
Bernie Nusbaum
Bethany VanLaningham
Bill Otten
Billy McKnight
Bob Anderson
Brad Marcus
Brad Nankivil
Brandon Stewart
Brandon Wasilk
Brandon Wiersgalla
Bren Toutges
Brendon Bursell
Brenner Knispel
Brent JoliCoeur
Bret Maxfield
Brian Mueller
Brian Owens
Brian Priebe
Brian Schroeder
Bryan Harvey
Bryan Jensen
Bryce Franck
Caitlin Shutrop
Carter Quast
Chad Larson
Charlie Quast
Chris Berger
Chris Billig
Chris Hart
Chris Ralph
Chris Roessler
Christopher Connoy
Clay Weisel
Clint Fagen
Cody Gunderson
Cody Quast
Colt Abel
Colton Nolan
Cy Abel
Dakota Hensley
Dan Billig
Dan Charlson
Dan Laabs
Dan Smith
Dan Welberg
Daniel Lobstein
Darrin Bliese
Darryl Kuhl
Dave Weisbrich
David Rutkes
Dean Schramm
Dean Scott
Denise Weidner
Dennis Mulcahey
Derek Barthol
Derek Wendland
Derrick Benz
Dominic Rulli
Don Lamkin
Doug Knudson
Drew Osborn
Dustin Pender
Dylan Schultz
Eric Benedict
Eric Grant
Eric Morgan
Garrett Russell
Garrett Sherry
Gary Schwarzrock
Gavin Olson
Gavyn Meyer-Hansen
George Beck
Greg Pogreba
Gregory Schrag
Isaac Carranza
Jack Shaw
Jacob Gehling
Jake Stanger
James Carpenter III
James Doerr
James Syring
Jared Miller
Jason Johnson
Jason Maier
Jay Pine
Jeff Birchem
Jeff Staricha
Jeff Zamzow
Jeffrey Hudson
Jeffrey Isackson
Jennifer Mendez-Melrose
Jeremy Haala
Jeremy Oelfke
Jim Fisher
Jimmy Connell
Joe Lang
Joe Puchtel
Joe Thebert
Joe VanWesten
John Reiman
Jonathan Diffley
Jordan Zuniga
Joseph Stampley
Josh Hart
Justin Nelsen
Justin Sweat
Justin Wiersgalla
Keith Barnett
Keith Markun
Ken Bahl
Ken Bateson
Kerry Nelson
Korben Munn
Kris Ratzlaff
Kurt Sand
Kyle Kromer
LaRae Gregor
Larry Kallinen
Louis Monette
Luke Jackson
Maggie Falco
Marc Jessee
Marcus Koester
Mario Rendon
Mark Hofteig
Mark Johnson
Mark Steckler
Matt Cowdin
Matt Erickson
Matt Hansen
Matt Jahns
Matt Monette
Matt Olson
Matt Snyder
Matt Worcester
Matthew Clark
Mica Franke
Mike Barry
Mike Foote
Mike Gehl
Mike Hamre
Mike Knudson
Mike Skelton
Mitch Jensen
Mitch Peterson
Myles McDonough
Nate Bottolfson
Nate Fromm
Nate Prins
Nathan Christiansen
Nathan Hamilton
Nathan Lenzen
Neil Baumgartner
Nic Balega
Nick Adams
Nikolas Gieske
Pat Wolf
Patrick Davis
Paul Corliss
Paul Fromm
Paul Radig
Paul Seltman
Pete Henning
Ramon Lopez
Richard Hensley
Rick Cramer
Rick Rigdon
Rob Carpenter
Rocky Johnson
Ron Dummer
Ryan Jones
Scott Anderson
Scott Hintz
Scott Maish
Scott Smith
Shawn Beck
Shay Brandt
Stephen Emerson II
Stephen Flodeen
Steve Flakne
Steven Leeper
Tad Lundberg
Taj Larson
Tanner Niemeyer
Taylor Pirner
Tedde Zumwalt
Terryn Aguilera
Tim Prins
Tina Danner
Todd Lanners
Todd Watnaas
Tom Bulander
Tony Carlson
Tony Johnston
Tony Lawrence
Tyler LaZerte
Ursula Kroells
Victor Reyes
Wally Lukas
Zachariah Lopez
Zack Oakley
We proudly serve the following cities:
AFTON
AITKIN
AKELEY
ALBANY
ALBERTA
ALBERTVILLE
ALEXANDRIA
ALEXANDRIA TOWNSHIP
ALEXANDRIA, MN
ALMELUND
ALMENA
ALPHA
AMBOY
AMERY
ANDOVER
ANNANDALE
ANOKA
APPLE VALLEY
APPLETON
ARDEN HILLS
ARKANSAW
ARLINGTON
ASHBY
ATWATER
AUDUBON
AVON
BACKUS
BALATON
BALDWIN
BALSAM LAKE
BARRETT
BARRON
BARRONETT
BARRY
BAXTER
BAY CITY
BAYPORT
BEARDSLEY
BECKER
BELDENVILLE
BELGARDE
BELGRADE
BELLE PLAIN
BELLE PLAINE
BELLECHESTER
BELLINGHAM
BELVIEW
BEMIDJI
BENA
BENSON
Show All
Zip Codes
46308
46401
51129
53345
53550
54001
54002
54003
54004
54005
54006
54007
54009
54010
54011
54013
54014
54015
54016
54017
54020
54021
54022
54023
54024
54025
54026
54027
54028
54082
54205
54433
54701
54721
54723
54725
54728
54730
54733
54735
54736
54737
54739
54740
54742
54749
54750
54751
54754
54755
Show All
---